July 2005
July 10 – Six Weeks: You are doing so well, that tomorrow, they are going to take you off the respirator again to see how you do. We are cautiously hopeful. I have been reading in Matthew, how when two people on earth agree on something, God will do it for them.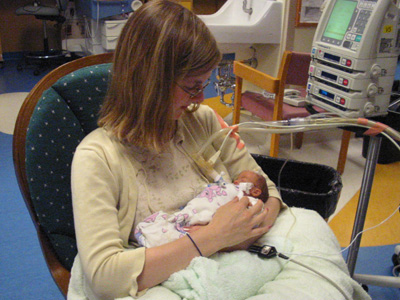 July 12: Dear Kelly, you are such a fighter. You were extabated this morning and so far, you are doing great.
Later ... You lasted five and a half hours off the respirator, but you were tired and gasping for breath so they put you back on.
July 14: I'm waiting for a cuddle. You are stable. We brought Hailey in to see you and she said: "Kelly sleeping" to all the nurses. We are getting used to this funny balance of life in the fast track, and stalled. We are carried by the prayers of our family and friends. Daddy flew home today, to pack up our house and get ready for the move to the new home we were building. I hope nothing happens to you while he's gone.
July 18: Seven weeks old, and you moved into a crib today. You look so cute. I love tucking you in. The new doctor had a talk with me today. He said you don't look like you're having heart failure. They're feeding you more now, and it's helping you grow. I am learning what it means to pray unceasingly.
July 20: Today, we celebrated your due date birthday.
We brought cupcakes in for the hospital staff today, in celebration of your life.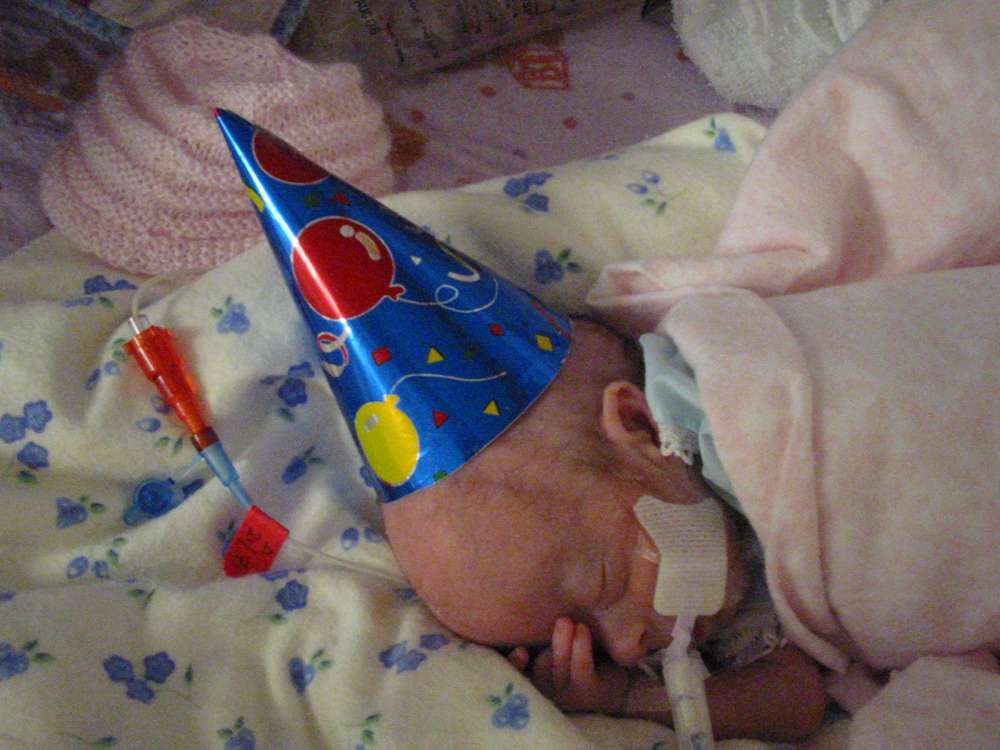 You now weigh 1370 grams. You remain stable and we wait to hear if anything can be done for your heart. Each night, we thank God for one more day with you and ask Him yet again for one more.
Other mom's in the nursery comment to me that they wish that their babies looked as peaceful as you. And, they say that I'm singing their babies to sleep when I'm singing to you.
July 25 – Eight Weeks: Momentous occasion! Your first nighty, the pink one, was in the laundry, with this sign: "Sleeves too tight!"
July 28: We went home for the weekend to move. We were so homesick for Sexsmith but as soon as we got there, we missed you and Hailey so much, we came home as soon as we could.
Your lungs are getting worse. The doctor says you will probably never breathe on your own. Daddy and I don't know what to do. Is it right to keep hoping and keep you on the ventilator if it's damaging your lungs? Are we prolonging your life . . . or your death? We've tried to hold you with open hands as a gift from God but maybe now, we are trying to hold you too tightly.
I cried yesterday with you in my arms. I don't want to watch you die, but I can't bear to have you die alone. I want to be holding you in my arms.
Jesus, please take her peacefully home and don't let her suffer. Lord, I can't even imagine what is to come. I know you will give us the strength just as we need it. Please give us unity. I am so afraid, not knowing what to do will cause division between us.
You are filling out so nicely, but you needed another blood transfusion today. You have brought new perspective to our lives when it comes to realizing our priorities for our time.
July 30: You are 1445 grams now. You had a chest X-ray today, to check the placement of your tube, and your lungs aren't any worse. Yesterday, you pulled your tube out. Was it a sign that you want to go home?
Next ...